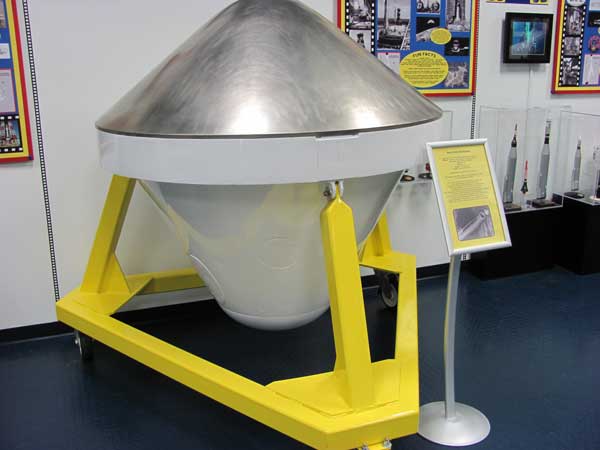 Photo Gallery
Nose cone presentation to museum
Heatsink in the rocket garden
Overview
Display location:
Type: Research glide vehicle launched on Atlas, Thor and Jupiter missiles
Agency: U.S. Air Force
Contractor: McDonnell Aircraft Company
Cape Canaveral Air Force Station Operations: 1963-1965
History
The Heatsink, Mark 2, was built by General Electric Re-entry Systems. The Mark 2 blunt body was designed to deflect heat away from the vehicle via the shockwave. Heatsink test materials included beryllium, cast iron, steel and copper; copper proved to be the best.
The Mark 2 was first flown 10 Jan 1958 on the Atlas and had some 35 flights at a maximum range of 6,500 nm. It was operational on the Atlas D ICBM at Vandenberg Air Force Base and the Thor and Jupiter IRBMs.
The Heatsink was among a group of nose cones presented to the Air Force Space and Missile Museum from the manufacturer, General Electric. The presentation was made at the Museum on 16 November 1966 by company representatives.
The Heatsink was on display for many years in the Museum Rocket Garden until 2009 when it was removed for restoration.
Related Pages:
More Payload & Reentry Vehicles