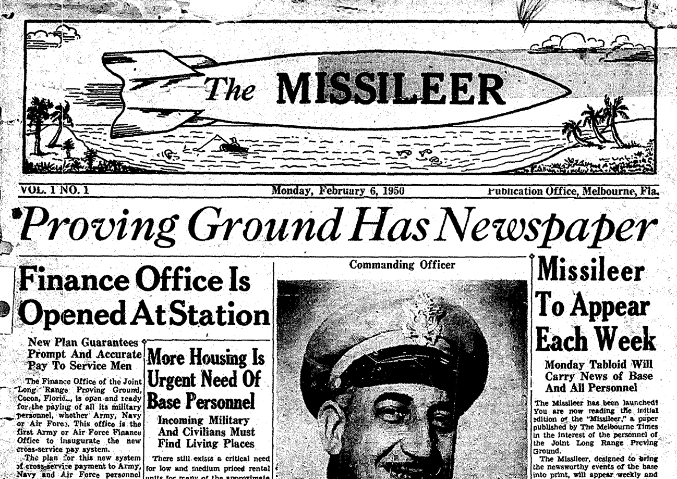 WHAT WAS "THE MISSILEER"?
Between 6 February 1950 and 28 September 2012, the Joint Long Range Proving Ground, which evolved into the Eastern Range and the 45th Space Wing, published a regular newspaper for military and civilian personnel assigned to Patrick Air Force Base and the Cape Canaveral launch facilities. These last 2 facilities were renamed Patrick Space Force Base and Cape Canaveral Space Force Station in 2020, and the 45th Space Wing became the Space Launch Delta 45 on 11 May 2021.
Search the Archive to explore full .pdfs of past issues and learn more about the history of the Space Force at the Cape!
About the 45th Space Wing
Other Archives
FULL PAST ISSUES
There were periods when publication was suspended and there are some published issues that were not archived.
Some of these documents are large and, depending upon your internet connection speed, may take significant time to download for viewing. For the best viewing experience, we recommend that you download the PDF files to your computer and then view your downloaded copy with Adobe Reader.
The newspapers may contain advertising. The museum does not endorse any of the advertisers.