Photo Gallery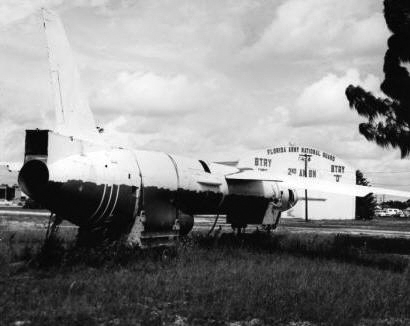 Snark awaiting delivery to the museum
Restoration Gallery

The Snark was under restoration between 1 March 2005 to 23 February 2006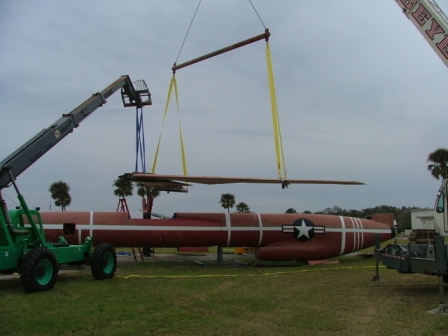 Disassembly at the museum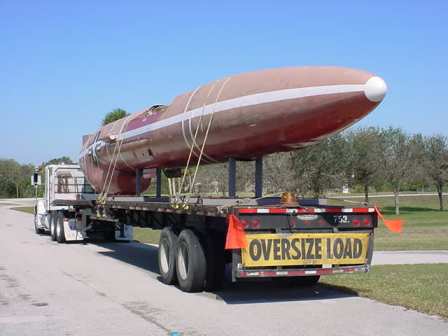 Transport to off-site area for restoration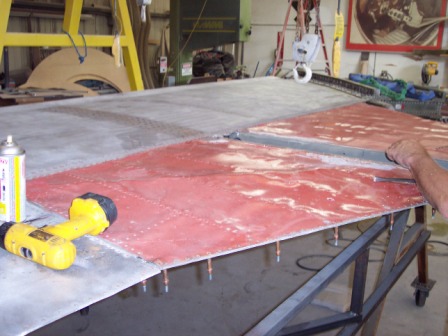 Paint stripping wings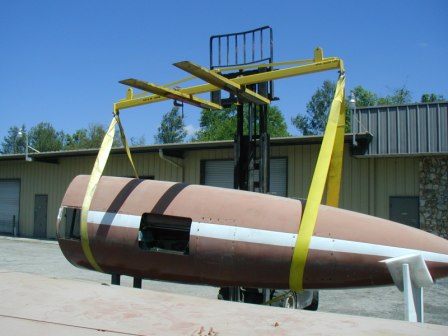 Disassembly and inspection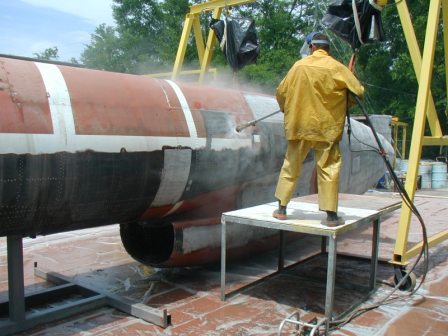 Paint stripping engine area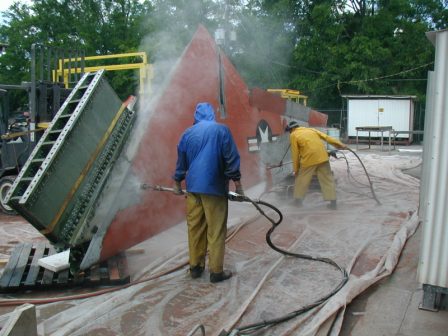 Paint stripping wings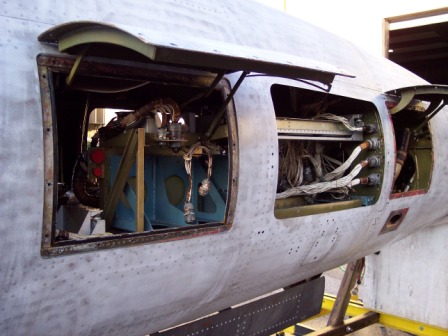 Compartments open for inspection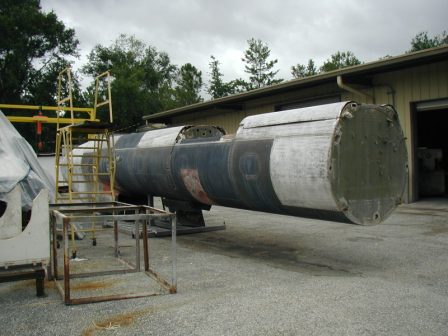 Main fuselage ready for paint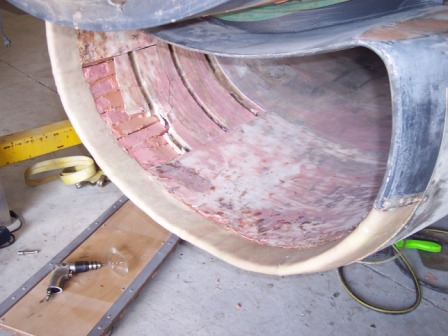 Engine intake repair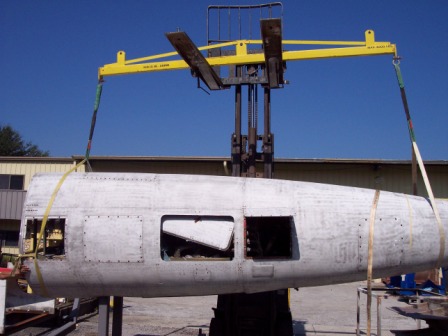 Preparation for paint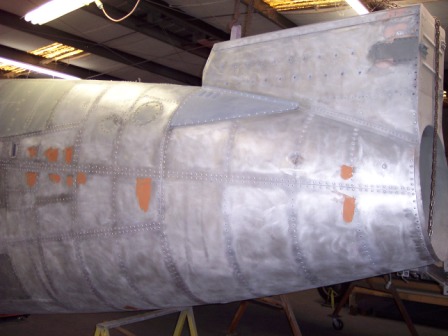 Engine area down to bare metal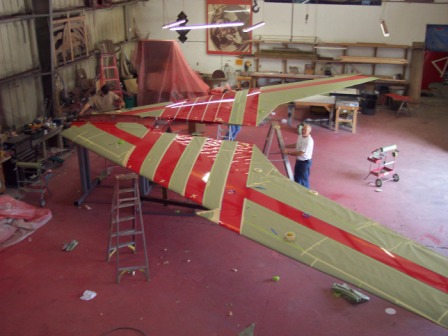 Wing mask and paint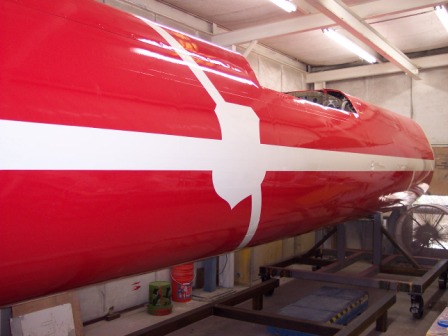 Final paint
Engine intake repair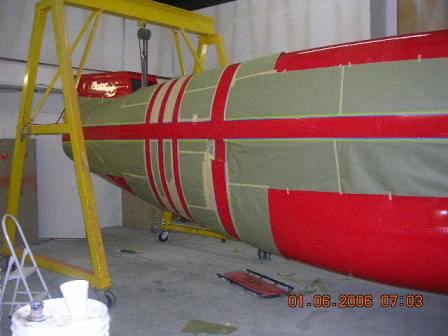 Final mask and paint
Final mask and paint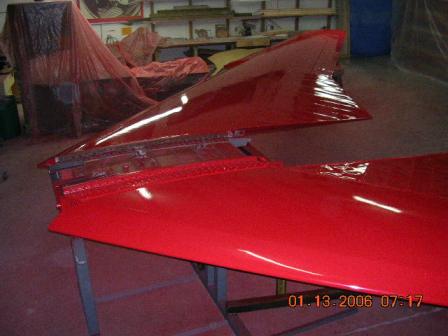 Wing final paint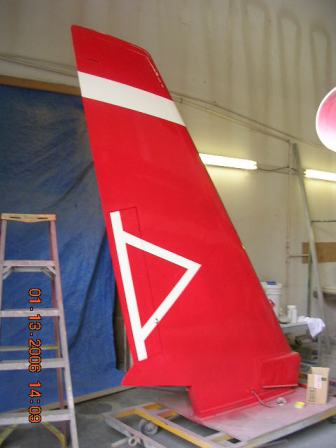 Stabilizer final paint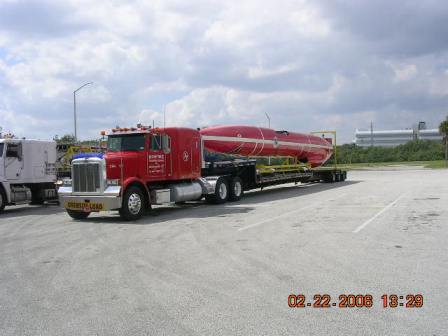 Load for return to the Cape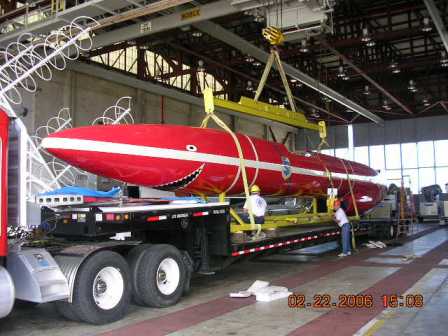 Unloading in Cape hangar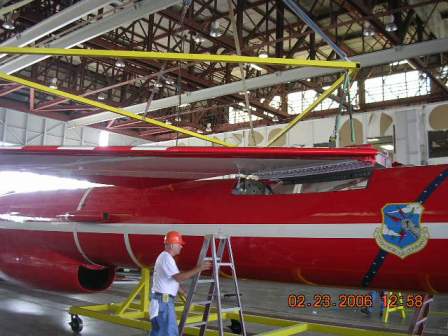 Attach wing
Overview
Display location:
Type: Intercontinental guided missile
Designation: SM-62
Serial Number: 8637
Payload: Conventional or nuclear warhead
Agency: U.S. Air Force
Contractor: Northrop Corporation
Cape Canaveral Space Force Station Operations: 1952-1960
History
Envisioned in the days following WWII, Snark was a pilot-less bomber, which held the distinction of becoming the first operational U.S. intercontinental missile. The Snark also played an important role in the development of launch facilities and infrastructure at Cape Canaveral.
Like the Atlas ICBM, the Snark cruise missile was born in October 1945. At the time, the U.S. military began exploring several options for delivering nuclear weapon payloads over long distances using unmanned vehicles.
A development contract for a long-range winged cruise missile was awarded to prime contractor Northrop in January 1946. However, budget restraints did not allow an early test version of the designated N-25 to fly until 1951. Development of the Shark progressed quickly. By the time an operational prototype of the Snark, designated N-69, was test flown for the first time on 6 August 1953, the missile's payload and range had been doubled over specifications originally envisioned.
As the Snark continued to prove itself during flight testing, a high priority was placed on the program. It was not until 1954 that the U.S. determined that ballistic missiles could carry nuclear weapons between continents.
Snark Uses
Alternately referred to as a pilot-less bomber, the Snark cruise missile, designated SM-62A, had a large fuselage which could carry 26,000 pounds of liquid fuel. The Snark was powered in flight by a turbojet which could produce a 10,500 pound thrust. The Snark carried a Nortronics celestial navigation system. This system could observe stars even through cloud cover, matching observations against pre-programmed position data to adjust the missile's flight path as necessary. This was the first time a guidance system of this type had been employed on a missile.
The Air Force Space and Missile Museum acquired the SM-62 Snark intercontinental guided missile (serial number 8637) from the Redistribution and Marketing Branch of Amarillo Air Force Base, Texas in July 1965. This particular Snark was damaged during its operational life, had been re-utilized as a trainer, and arrived at the Museum without engine components or instrumentation.
The Snark remained on display in the museum rocket garden until it was removed for restoration on 1 March 2005. The contract for the restoration project was awarded to Guard-Lee, Inc. of Apopka, Florida. After refurbishment was completed at an off-site facility, the Snark was returned to Cape Canaveral Space Force Station on 23 February 2006.
Related Pages:
Other Missile & Rocket Artifacts
Watch our Snark's move to it's new and current home at Hangar C!