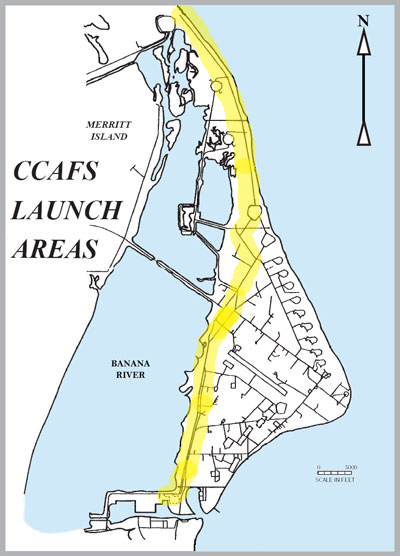 Photo Gallery

Phillips Parkway road sign
Overview
Phillips Parkway is one of the most traveled and most important roads on Cape Canaveral Space Force Station.
The proper name for the road is Samuel C. Phillips Parkway.
Name Origin
Phillips Parkway is named in honor of General Samuel C. Phillips whose association with the Minuteman missile program and the Apollo Lunar Landing program were well known at the time.
A dedication ceremony was held on 16 September 1991 at Cape Canaveral Space Force Station. Reported in the popular local newspaper "Today" by reporter Milt Salamon, the ceremony was attended by members of the General Phillips' family, the Cape commander, Eastern Test Range commander and Kennedy Space Center director.
The Road Today
The road runs the full length of the Cape and extends into Kennedy Space Center. Outside the Cape south gate, the road is known as Florida State Road 401. Between the Cape south gate and the industrial area, it is a four-lane divided highway with a spacious grass median.
After transiting the industrial area, it narrows and continues beyond Launch Complex 37 and through northeastern Kennedy Space Center as a two-lane coastal road. Old maps of the Cape show the full length of the original road as Highway A1A.
It is interesting to note that the southbound lane of Phillips Parkway is the original road right-of-way onto the Cape. Maps show that this lane lines up with North Atlantic Avenue in the town of Cape Canaveral.
Historic Plaque
A sign and plaque dedicating Phillips Parkway reportedly once stood near the south gate to Cape Canaveral Space Force Station. It reads:
SAMUEL C. PHILLIPS PARKWAY
Where he led, we follow
This road dedicated on September 16, 1991 in memory of General Samuel C. Phillips for his many contributions to the United States' Space Program. General Phillips was a pioneer and visionary whose imagination, dedication and professional competence led to the successful Apollo Program which put the first men on the Moon. He also served as the Directory of the Minuteman Intercontinental Ballistic Missile Program and as the Project Officer for the Falcon and Bomarc missile programs. General Phillips helped write the international agreement with Great Britain for the deployment and use of the Thor Intermediate-Range Ballistic Missile for which he earned the Legion of Merit. He was also awarded the Air Force Distinguished Service Medal and two NASA Distinguished Service Medals.
---
Related Pages:
More Cape Canaveral Facilities