Overview
A variety of ships have operated on the Eastern Range. They primarily provided missile tracking data in areas of the Range that ground stations could not cover. Some ships were also used for recovery of missile nose cones and manned spacecraft after splashdown in the ocean.
USS Sarsfield; USS Foss
Arrived 17 July 1950 to support the Bumper launches with tracking, in-flight data recording and surveillance reporting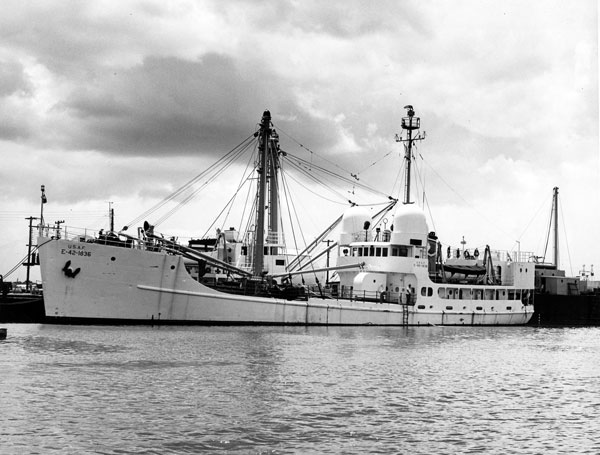 FS Echo; FS Foxtrot; FS Golf; FS Hotel; FS India; FS Kilo
Converted WWII Freight and Supply (FS) ships
Also known as Ocean Range Vessel (ORV)
February 1956 – 11 picket ship were requested to support the Snark and Atlas programs
16 April 1956 – Contract awarded to modify WWII surplus ships
1957/1958 – Six ships delivered to recover launch reentry vehicles, collect telemetry and weather data between Antigua and Ascension
November 1959 – Ships retired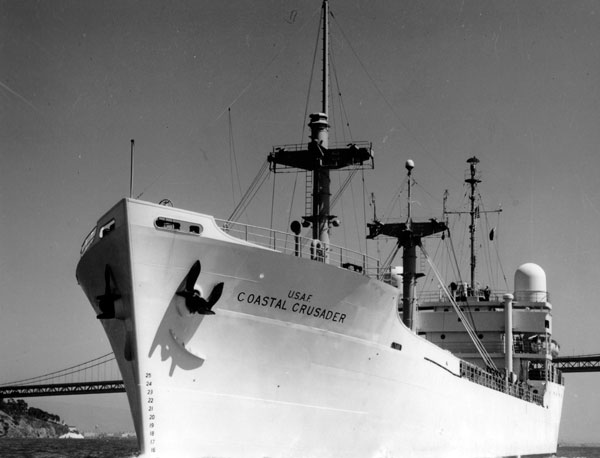 Timber Hitch (T-AGM-17); Coastal Sentry (T-AGM-15); Rose Knot (T-AGM-14); Coastal Crusader (T-AGM-16); Sword Knot (T-AGM-13); Sampan Hitch (T-AGM-18)
Used primarily for telemetry reception, weather data, and vehicle recovery
Also known as Ocean Range Vessel (ORV)
February 1956 – Four ships acquired
January 1958 – Sword Knot arrived
March 1958 – Timber Hitch, Rose Knot and Coastal Sentry arrived
13 June 1958 – Coastal Crusader successfully recovered a Thor missile data capsule
21 July 1959 – Coastal Sentry first recovery of an Atlas nose cone
March 1959 – Sampan Hitch arrived
17 May 1960 – Coastal Sentry and Rose Knot were modified to support Mercury Program
6 September 1961 – Sword Knot recovered a Titan I reentry vehicle
November 1961 – Timber Hitch transferred to Pacific for Mercury Program support
7 May 1965 – Timber Hitch was returned to Eastern Test Range and withdrawn
10 January 1968 – Timber Hitch deactivated
20 February 1968 – Sword Knot was transferred to Western Test Range
2 March 1968 – Rose Knot deactivated
12 May 1968 – Coastal Sentry deactivated
12 September 1969 – Coastal Crusader deactivated
USNS American Mariner (T-AGM-12)
1957 – Former SS George Calvert converted to a Range Ship
Arrived on Eastern Test Range to support Project DAMP (Down Range Antimissile Measurement Program)
Measurements of missile tests were made by instrumentation aboard
11 December 1961 – C-130 aircraft used with the ship in the impact area at Ascension
16 January 1963 – Returned to Eastern Test Range after supporting Pacific Missile Range for a year
1966 – Taken out of service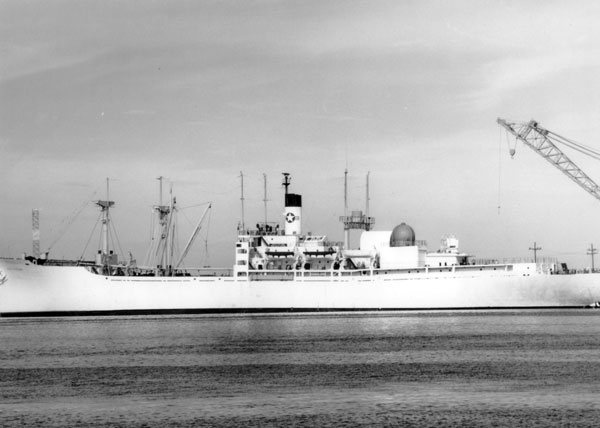 Twin Falls Victory (T-AGM-11)
Acquired and transmited trajectory data, weather and telemetry in real time
Carried FPS-16 radar
11 March 1960 Contract awarded to modify for tracking
14 November 1969 – Deactivated
General Callan (ARIS 1); General Taylor (ARIS 2)
Advanced Range Instrumentation Ships
Radar provided simultaneous trajectory and target signature data on a primary and two secondary targets
C-band 30 foot parabolic reflector with cassegrainian horizontal and vertical focal point feed system
L-band and X-band shared 40 foot parabolic antenna which has an 18 foot solid center to reflect l- and x-bands
Telemetry had a 30 foot parabolic antenna
24 June 1961 – Contract awarded for $70.3 million
15 November 1961 – Ships became operational
1 May 1963 – General Callan renamed USNS General H. H. Arnold and General Taylor renamed USNS General Hoyt S. Vandenberg
USNS Hoyt S. Vandenberg (T-AGM-10); USNS General H. H. Arnold (T-AGM-9)
Sophisticated missile tracking ships
4 September 1963 – JC-130 aircraft made a successful air recovery of a dummy data package from the deck of the USNS Hoyt S. Vandenberg
1982 – USNS H.H. Arnold deactivated in 1982
1983 – USNC Hoyt S. Vandenberg deactivated
27 May 2009 – USNS Hoyt S. Vandenberg sunk as an artificial reef 7 miles off Key West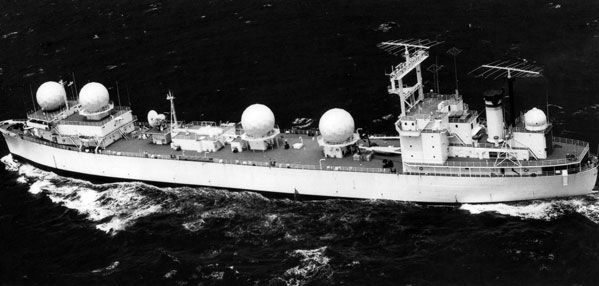 USNS Redstone (T-AGM-20); USNS Vanguard (T-AGM-19); USNS Watertown (T-AGM-6); USNS Mercury (T-AGM-21); USNS Huntsville (T-AGM-7)
Apollo Instrumentation Ships
Performed tracking, telemetry and communication functions for Apollo lunar missions
Replaced the Timber Hitch class ships
11 October 1966 – USNS Vanguard accepted at the Eastern Test Range
17 March 1967 – USNS Vanguard transferred to the Western Test Range
18 January 1967 – USNS Mercury accepted at the Western Test Range
19 July 1967 – USNS Watertown accepted at the Eastern Test Range
18 August 1967 – USNS Huntsville accepted at the Eastern Test Range
20 September 1967 – USNS Redstone accepted at Western Rest Range
USNS Observation Island (T-AGM-23)
1953 – Commissioned as the Empire State Mariner
1953 – Transferred to the Navy for conversion into a seagoing launching pad for submarine ballistic missiles
2 February 1959 – Arrived to support the Polaris testing program
27 August 1959 – First Polaris launch from Observation Island
20 January 1964 – Final Polaris launch
Total Polaris launched – 25
After final Polaris launch, the ship served as a Launch Area Support Ship (LASS)
16 December 1969 – First Poseidon launch from Observation Island
24 March 1970 – Final Poseidon launch
Total Poseidon launched – 3
1972 – Ship returned to the reserve fleet
1982 – USNS Observation Island joined Eastern Test Range as a range instrumentation ship mainly supporting the Cobra Judy Program
October 1995 – Cobra Judy program was transferred to AFTAC
USNS Waters (T-AGS-45)
Navigation Test Support Ship
26 May 1993 – Commissioned
Supported Trident submarine navigation system testing and ballistic missile flight test support services
Replaced the USNS Vanguard and USNS Range Sentinel
USNS Range Sentinel (T-AGM-22)
20 September 1944 – Commissioned USS Sherburne (APA-205)
3 August 1946 – Decommissioned
Converted to a Missile Range Instrumentation Ship
Same size as Range Tracker
21 October 1971 – Placed in service
14 November 1971 – Arrived to support the Poseidon Program
12 June 1997 – Taken out of service
USNS Range Tracker (T-AG-160)
27 July 1960 – Redesignated T-AGM-1
In January 1969 – Eastern Test Range planned the ship to provide range safety for Poseidon launches
27 September 1969 – Taken out of service
New Down Range Support Ship (DRSS).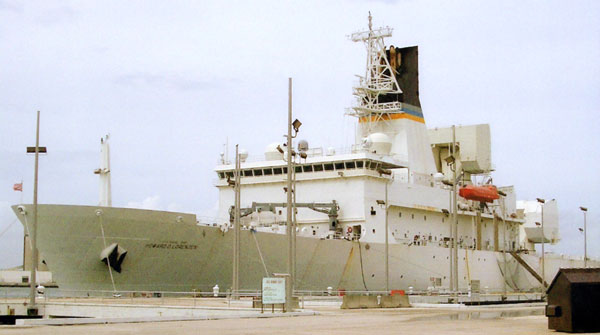 USNS Howard O. Lorenzen (T-AGM-25)
Equipped with a massive radar system originally known as Cobra Judy replacement (CJR). CJR was later designated Cobra King when it became operational in 2014. This radar system tracks foreign ballistic missiles to ensure compliance with strategic arms treaties.
Replaced missions performed by similar tracking systems on the USNS Observation Island for SLBM launches
Named after an Naval Research Laboratory (NRL) electrical engineer
USNS Invincible (T-AGM-24)
Missile Range Instrumentation Ship
Cobra Gemini dual band, X-band and S-band radar
Recovery Ships
The recovery ships did not necessary operate on the Eastern Range, but are included because of their important association with launches made from Cape Canaveral Air Force Station or Kennedy Space Center.
USS Escape

First Jupiter nose cone recovered

USS Strong

9 September 1959 – Recovered first Mercury capsule

USS Lake Champlain

5 May 1961 – Recovered first Mercury manned capsule
19 January 1965 – Recovered unmanned GT-2 capsule
21 August 1965 – Recovered GT-5 capsule

USS Randolph

21 July 1961 – Recovered second manned Mercury capsule

USS Stormes

29 November 1961 – Recovered MA-5 capsule with primate

USS Noa

20 February 1962 – Recovered MA-6 capsule

USS Pierce

24 May 1962 – Recovered MA-7 capsule

USS Wasp

3 June 1965 – Recovered GT-4 capsule
4 December 1965 – Recovered GT-7 capsule
15 December 1965 – Recovered GT-6 capsule
3 June 1966 – Recovered GT-9 capsule

USS Mason

16 March 1966 – Recovered GT-8 capsule

USS Guadalcanal

18 July 1966 – Recovered GT-10 capsule
3 March 1969 – Recovered Apollo 9 capsule

USS Guam

12 September 1966 – Recovered GT-11 capsule

USS Bennington

9 November 1967 – Recovered unmanned Apollo 4 capsule

USS Essex

11 October 1968 – Recovered Apollo 7 capsule

USS Yorktown

21 December 1968 – Recovered Apollo 8 capsule

USS Princeton

18 May 1969 – Recovered Apollo 10 capsule

USS Hornet

16 July 1969 – Recovered Apollo 11 capsule

USS Iwo Jima

17 April 1970 – Recovered Apollo 13 capsule

USS New Orleans

9 February 1971 – Recovered Apollo 14 capsule
25 September 1973 – Recovered Skylab 3 capsule
8 February 1974 – Recovered Skylab 4 capsule
24 July 1975 – Recovered Apollo-Soyuz Test Project (ASTP) capsule

USS Okinawa

7 August 1971 – Recovered Apollo 15 capsule

USS Ticonderoga

27 April 1972 – Recovered Apollo 16 capsule
19 December 1972 – Recovered Apollo 17 capsule
22 June 1973 – Recovered Skylab 2 capsule
More Cape Canaveral Facilities