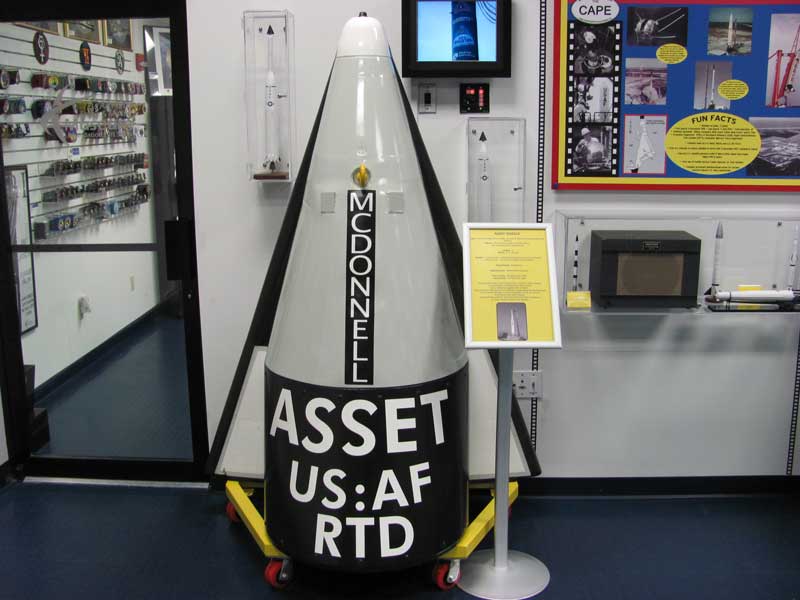 Restoration Gallery
ASSET was removed from the museum rocket garden for restoration in September 2005
Bottom rust
Nose damage
Repairing bottom rust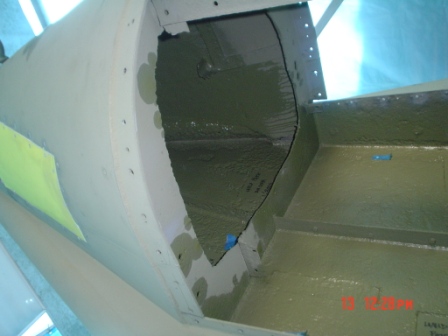 Interior restored
New compartment cover
Mast for painting
Painting
Final trim
Finished ASSET is delivered
Overview
Display location:
Type: Research glide vehicle launched on Thor missile
Agency: U.S. Air Force
Contractor: McDonnell Aircraft Company
Cape Canaveral Air Force Station Operations: 1963-1965
History
Aerothermodynamics Elastic Structural System Environmental Test (ASSET) vehicle was built by McDonnell Company. It was launched to an altitude of 200,000 feet then released to glide back to the earth performing maneuverability, stress and heat refraction experiments.
The vehicle was used to provide data quickly and cheaply to accelerate the development of maneuverable re-entry capability for the X-20 Dynasoar. The vehicle weighed between 1,100 to 1,200 pounds and had a wing sweep of 70 degrees. There were two versions of the ASSET: Aerothermodynamics Structure Vehicle (ASV) and Aerothermoelastic Vehicle (AEV).
All launches came from Launch Complex 17 on Thor and Thor Delta boosters from 18 September 1963 to 23 February 1965, a total of 6 launches.
Restoration
The ASSET vehicle was transferred to the Museum in 1965 and was on display for many years in the Rocket Garden. It was removed for restoration in September 2005. The contract for the restoration project was awarded to Keith Davidson of AirCorr Inc., Melbourne, Florida. After refurbishment was completed at an off-site facility, the ASSET was returned to Cape Canaveral Air Force Station on 20 February 2006.
Related Pages:
More Payload & Reentry Vehicles