**Exhibit renovations currently underway. Check back with this page for future updates.**
---
Photo Gallery
Exhibit Hall in 1968 before enclosure
Exhibit Hall after construction
Exhibit Hall room 1 – Early Days at the Cape
Exhibit Hall room 2 – GPS Block 1 scale model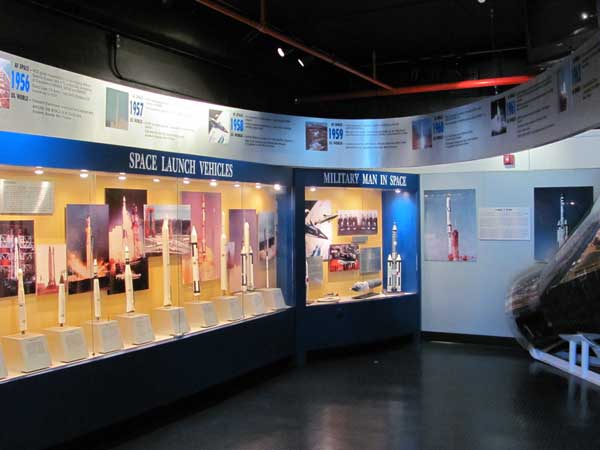 Exhibit Hall room 3 – The Schriever Era
Historical Markers
Memorial plaque to Major General Sands at north entrance to Exhibit Hall
Overview
Adjacent to the blockhouse, the Exhibit Hall features numerous space related displays on the important role of the Air Force in the development of space exploration as well as its continuing involvement.
The Exhibit Hall is an original structure to Launch Complex 26. It was an open-front parking revetment with three bays that provided some protection to vehicles and equipment parked at the complex.
In 1968, the open front was enclosed. The three parking bays were turned into three interior rooms with restrooms and a utility room added onto the back.
Room 1
The first room hosts a display of winged missiles, the V-2 rocket engine, Cape Canaveral nature, lighthouse history, Banana River Naval Air Station history and other artifacts.
Room 2
The center room has varied displays of 'downrange' tracking sites, weather rockets, background on Titan, Atlas and Delta rockets, early Polaris submarine model and an actual Flight Termination Console from the old Range Control Center.
Room 3
The third room is dedicated to General Bernard A. Schriever, considered to be the father of the military space and missile program. Dedicated on 20 September 1996, it houses displays showing some of the programs with which General Schriever was involved.
Other Museum Facilities