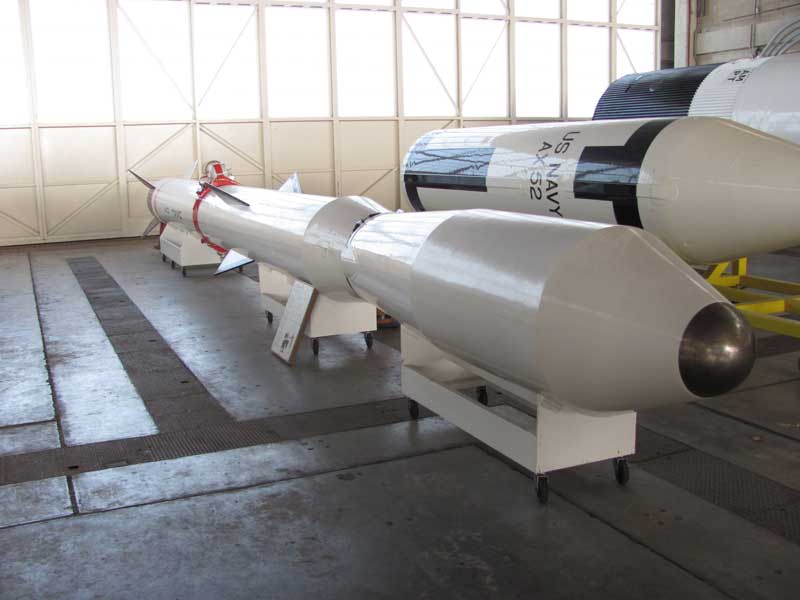 Restoration Gallery
Blue Scout Jr. was removed from the Museum rocket garden on 12 December 2003
Removing Blue Scout from the museum
Disassembly and cleanup
Disassembly and cleanup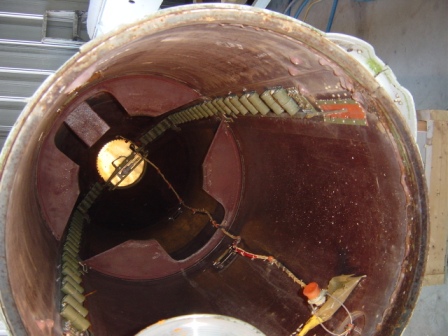 Disassembly and cleanup<br>19 December 2003
Disassembly and cleanup
clean and paint
Clean and paint
Spin motor cleanup
Clean and paint
Aluminum preparation
Primer and sealing
Primer and sealing
Primer and sealing
Final paint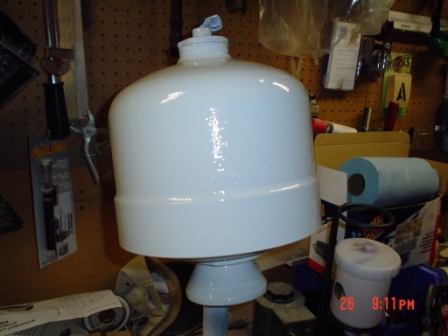 Spin motor final paint
Final paint
Spin motor final assembly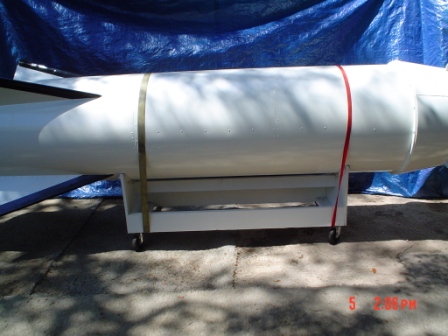 Final assembly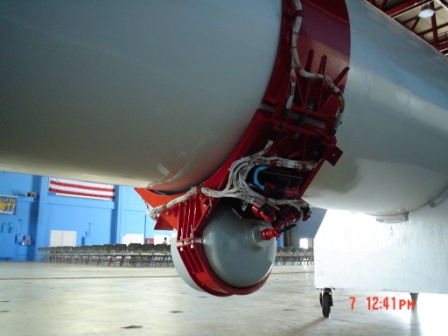 Finished restoration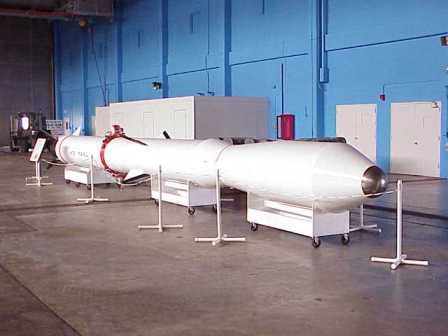 Finished restoration
Finished restoration
Overview
Display location:
Type: High altitude research vehicle
Agency: U.S. Air Force
Payload: Various U.S. Air Force scientific apparatus
Contractor: Ford Aeronautical Division
Cape Canaveral Air Force Station Operations: 1960-1965
History
Blue Scout, Jr. was a scaled down version of the National Aeronautics and Space Administration (NASA) Scout rocket. The Scout program was born in 1958 as a method was sought to both perform high altitude research and carry small payloads into space.
Called the "poor man's rocket", Scout vehicles were manufactured relatively inexpensively by combining "off the shelf' solid-rocket propellant stages from existing programs. The Scout first stage was adapted from the U.S. Navy Polaris missile, the second stage from the U.S. Army Sergeant missile and the third and fourth stages were from the civilian Vanguard rocket program.
The basic NASA Scout was ultimately styled in several different versions depending upon the mission application. These included Blue Scout I, Blue Scout II and Blue Scout, Jr. The prefix "Blue" indicated that the Scout was being used to carry out U.S. Air Force objectives.
Stages of Development
Blue Scout I was a three-stage version of the Scout, while Blue Scout II was nearly identical to the original four-stage Scout. However, Blue Scout, Jr. was quite different. Designed specifically for high altitude research, the name "junior" was entirely appropriate for this smaller version of the Scout.
The Scout second stage became the first stage of the Blue Scout, Jr. while the Scout third stage became the second stage of the Blue Scout, Jr. Completely new, compact third and fourth stages were incorporated into the Blue Scout, Jr. which could carry small scientific payloads to extremely high altitudes.
Scout Launches
A relatively inexpensive yet reliable launch vehicle, Blue Scout, Jr. research rockets were launched from Sergeant missile beams. The Blue Scout, Jr. was unguided, and was stabilized by a gentle spinning motion of the rocket as it flew. A total of ten Blue Scout, Jr. rockets were launched from Cape Canaveral between 21 September 1960 and 9 June 1965.
Several types of Scout rockets were launched from the Cape between 21 September 1960 and 9 June 1965. There were Scout launches from Vandenberg Air Force Base, California between 26 April 1962 and 8 May 1994.
The Air Force Space and Missile Museum acquired the Blue Scout Jr. high altitude research vehicle from NASA's Wallops Flight Center at Wallops Island, Virginia in June of 1980. It was provided to the Museum in exchange for a Tiamat air-to-air missile.
The Blue Scout Jr. remained on display in the museum rocket garden until it was removed for restoration on 12 December 2003. The contract for the restoration project was awarded to Keith Davidson of AirCorr Inc., Melbourne, Florida. After refurbishment was completed at an off-site facility, the Blue Scout Jr. was returned to Cape Canaveral Space Force Station on 7 May 2004.
Related Pages:
Other Missile & Rocket Artifacts