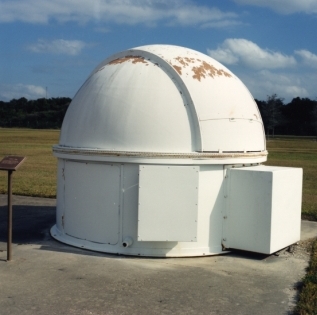 Overview
Display location:
Type: Dome used to protect optical systems from climate
History
Camera domes are used to protect delicate camera and telescope equipment from adverse weather conditions. These domes can be mounted at fixed ground sites or on mobile trailers. The top sections of the domes are motorized and can be opened to allow observations at up to 90 degrees from the horizon.
Most large domes like the one in the figure were mounted on mobile units that could be moved to an observation site. Although constructed of fiberglass and relatively thin metal, these domes allowed cameras and telescopes to safely track and photograph their targets.
More Support Hardware