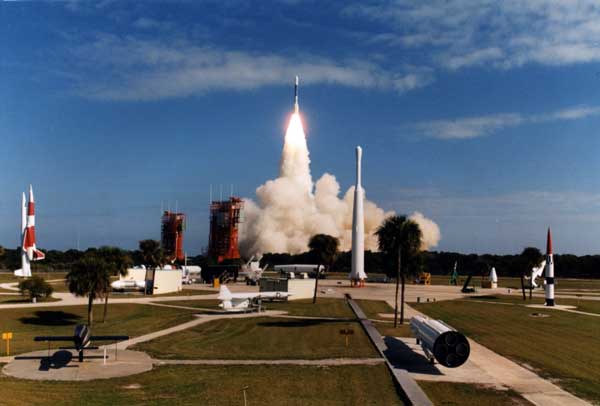 Location:
Overview
The launch pads of Launch Complex 17, located adjacent to the museum, provide a breathtaking backdrop to the historic aerospace vehicles now at rest in the Rocket Garden. The original Launch Complex 26 gantry, the oldest service tower at Cape Canaveral, rests on Launch Pad 26B.
Just a short distance from the Rocket Garden is Launch Complex 5/6, where America's first two astronauts, Alan Shepard and Virgil "Gus" Grissom, were catapulted into space. A Mercury Redstone rocket stands on Pad 5.
Artifact Preservation & Restoration
At one time, the Rocket Garden boasted one of the largest collections in the country featuring rockets, missiles, re-entry vehicles, and related space hardware. Over the years, the hot Florida sun and corrosive salt spray from the nearby Atlantic Ocean attacked the outdoor displays.
Even with continuous repair and re-painting, some of the rockets had deteriorated to point that they needed a major restoration. A few of the displays were one-of-a-kind, the only remaining examples of important missile programs of the past. See how Exhibit Restorations are progressing.
Other Museum Facilities