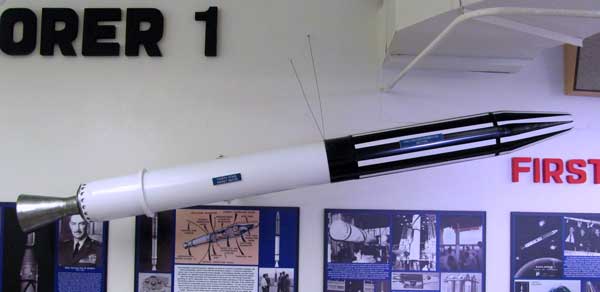 Photo Gallery
Explorer I undergoing testing. Note that it is detached from the 4th stage rocket motor.
Explorer I satellite held overhead at a press conference by (L to R): Dr. James Pickering, Dr. James Van Allen, Dr. Wernher Von Braun
Explorer I satellite, Standing L to R: Dr. William Mrazak, Dr. Walter Haeussermann. Seated L to R: Dr. Ernest Stuhlinger, Major General John Medaris, Dr. Wernher Von Braun, Dr. Eberhard Rees
Preparation of the Jupiter C launch vehicle, inside Cape Canaveral hangar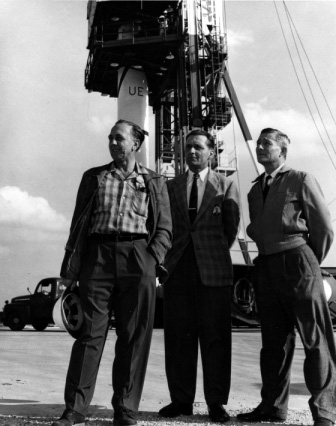 Standing L to R: Dr. Kurt Debus, Albert Zeiler, Dr. Hans Grune, Pad A, Complex 26, 31 January 1958
Jupiter C Launch Vehicle inside the gantry on Pad 26A, 31 January 1958., A technician (right side of photo) is walking past the railing around the stairwell to the under-pad tunnel.
Overview
Display location:
America's First Satellite:
Launched 31 January 1958 from Complex 26, Launch Pad A
A full-sized mockup of the Explorer I satellite is on display inside the blockhouse. Accompanying story boards describe the people, places and events leading up to its launch from Complex 26.
Related Pages:
More Payload & Reentry Vehicles