Photo Gallery
Lighthouse gazebo with steel roof
Historical Markers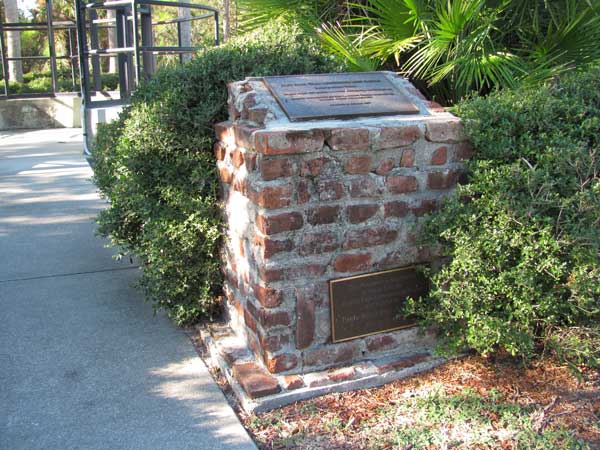 Brick monument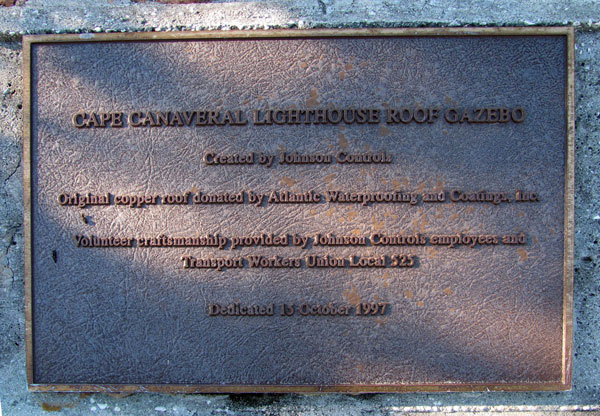 Dedication plaque on top of brick monument
Plaque on front of brick monument
Overview
Display location:
History
During a Cape Canaveral Lighthouse renovation in 1996, the original copper roof from the lighthouse was replaced with a galvanized steel roof. The copper roof was placed on display at the Air Force Space and Missile Museum near the entry parking lot.
A special gazebo was constructed in the same dimensions as the lighthouse lantern room and dedicated for the sole purpose of enhancing display of the copper roof.
A plaque (text below) commemorating the gazebo dedication was added on a brick monument shortly afterward.
---
CAPE CANAVERAL LIGHTHOUSE ROOF GAZEBO
Created by Johnson Controls
Original copper roof donated by Atlantic Waterproofing and Coatings, Inc.
Volunteer craftsmanship provided by Johnson Controls employees and
Transport Workers Union Local 525
Dedicated 13 October 1997
A second plaque on the brick monument reads: "This monument is constructed of bricks from the original Cape Canaveral Lighthouse and Erected by Eagle Scout Paul H. Heleen, BSA Troop 481"
Another renovation of the lighthouse in the 2006-2007 time frame, resulted in a decision to repair and place the original copper roof back on the lighthouse. In February 2006, the 138 year old copper roof was removed from the gazebo display and replaced with the 9 year old galvanized steel roof from the previous lighthouse renovation. Remaining for display was the copper vent ball from the original lighthouse.
---
Related Pages:
Other Markers & Displays