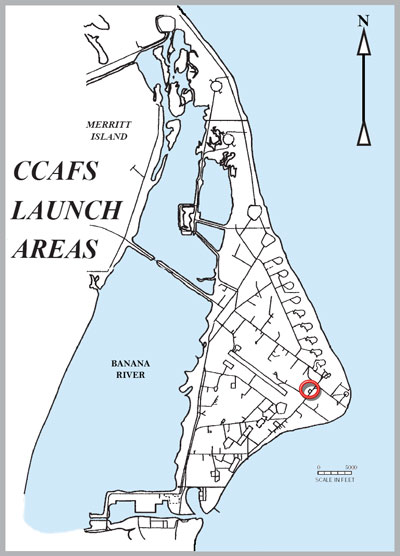 Photo Gallery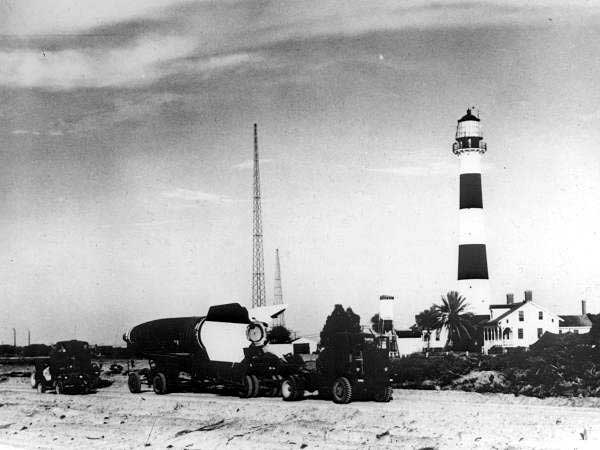 Bumper rocket passes by the Lighthouse, July 1950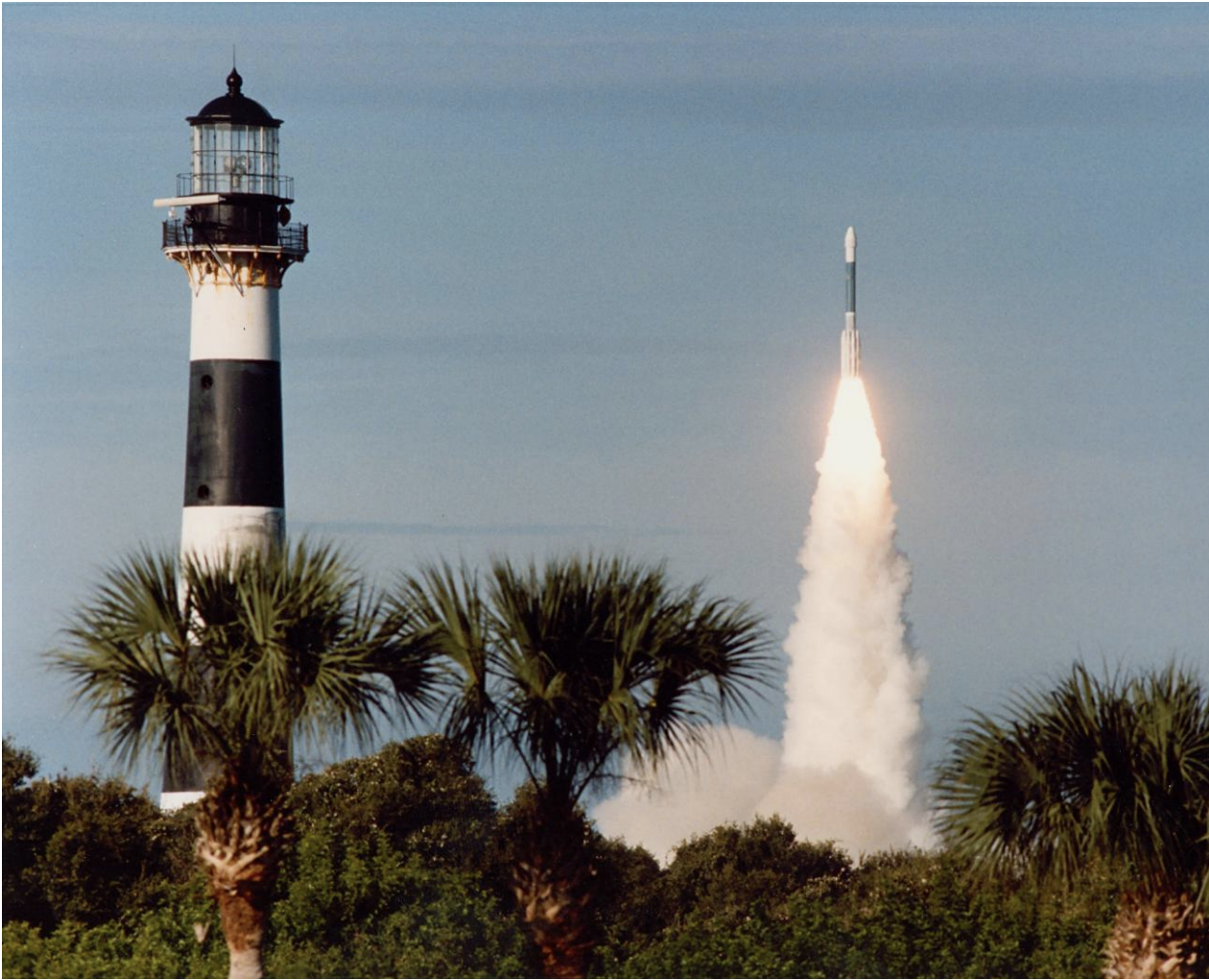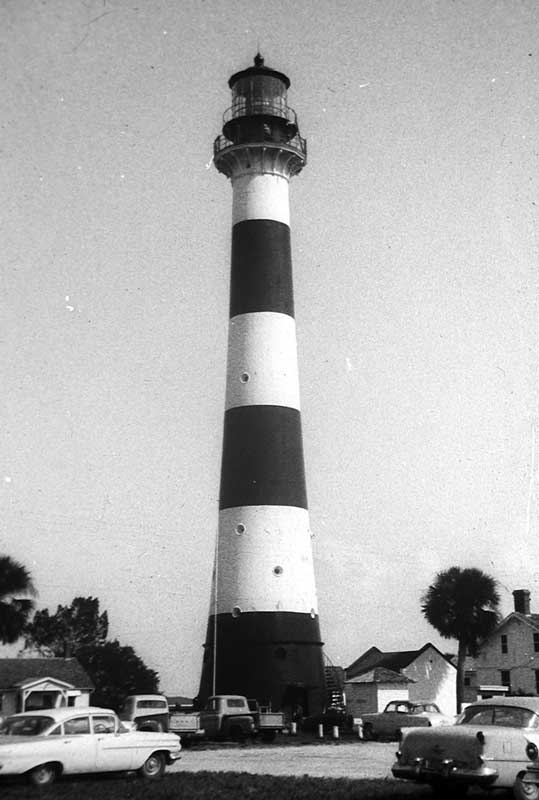 Lighthouse as a Cape work area, Circa 1960
Cape Canaveral Lighthouse – 2013
Lighthouse Aerial – 2010
The lighthouse enjoys popularity almost equal to rockets launched from the Cape, 12 July 2005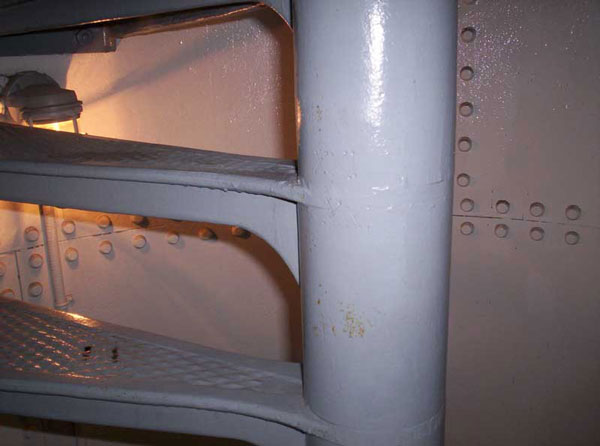 Spiral staircase leads to the lantern room, 12 July 2005
History
The lighthouse is the oldest standing structure on the Cape. Originally built in 1868 to replace a much shorter brick lighthouse, it was moved to its present location and put back into service in 1894.
If you ever wondered what the view was like from the top of the lighthouse, you can now see for yourself. A series of photos taken from the catwalk by lighthouse volunteer George Eustis was transformed into a 360 degree view. It was a difficult task to take the photos because the camera had to be moved for each shot. We think you will find the result breathtaking. See the panoramic view from the top of the lighthouse.
A sign designating the lighthouse a Florida Heritage Site (text below) stands along the road in front of the lighthouse.
Additional information about the lighthouse and can be found at the Cape Canaveral Lighthouse Foundation web site.
Related Pages:
More Cape Canaveral Facilities
Historical Markers
Florida Heritage Site sign in front of lighthouse
Historical marker monument at lighthouse
Plaque on top of historical marker monument at lighthouse
Plaque on front of historical marker monument at lighthouse
Plaque inside first level of lighthouse
CAPE CANAVERAL LIGHTHOUSE
F-628 2008
On May 21, 1838, Florida Territorial delegate Charles Downing requested a lighthouse be built on Cape Canaveral. The first lighthouse completed in Jan. 1848 stood 65-feet tall, had a 55 foot tower and a 10-foot lantern room equipped with 15 lamps on 21-inch reflectors. The brick tower and keeper's home cost under $13,300. Nathaniel Scobie oversaw construction and appointed the first keeper. With the advent of the Civil War, S. Mallory, Confederate Navy Secretary, ordered Florida east coast lighthouses "extinguished." Keeper Mills Burnham removed the lamp and buried it in his orange grove. A state-of-the-art, 151-foot iron tower was erected in 1868 and topped with a 1st Order Fresnel lens. The tower's living quarters were used for storage and a weather station. In 1871 a storm surge washed over the lighthouse area spoiling lamp oil and drinking water. This and shoreline erosion caused the lighthouse to be moved. From Oct. 1893 to Jul. 1894 the tower was dismantled, moved by tram one mile inland and re-erected, along with a 1st and 2nd assistant's and keeper's homes, to its present location. In 1939 the Coast Guard took ownership. In 2000 stewardship was transferred to the 45th Space Wing, Patrick Air Force Base.
A FLORIDA HERITAGE SITE
SPONSORED BY THE BREVARD COUNTY HISTORICAL COMMISSION
THE BREVARD COUNTY TOURIST DEVELOPMENT COUNCIL
AND THE FLORIDA DEPARTMENT OF STATE