Photo Gallery
Skybolt arrives at the museum
Restoration Gallery
The Skybolt was under restoration between 2 December 2004 to 6 June 2006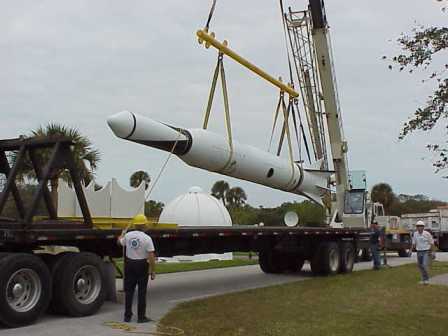 Removing Skybolt for off-site restoration
Disassembly and inspection
Disassembly and inspection
Disassembly and cleaning
Old paint removal
Old paint removal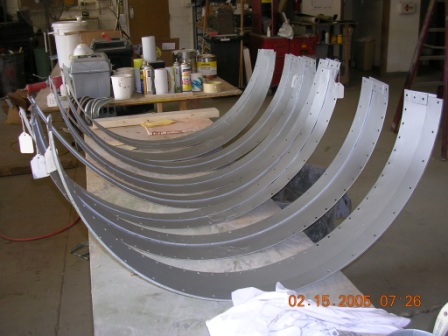 Manufacture replacement skin
Old paint removal
Old paint removal
Old paint removal
Primer paint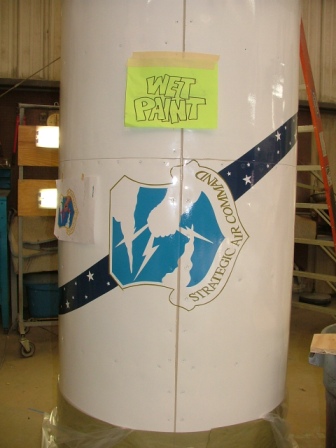 Final paint
Masking and paint
Final paint
Paint and trim
Final trim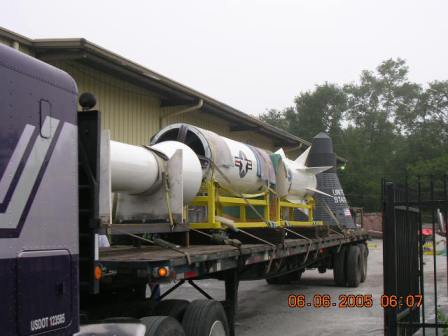 Loading for return to the Cape
Delivery to the Cape hangar
Overview
Display location:
Type: Air-to-surface guided missile
Designation: XGAM-87 / XAGM-48
Payload: Nuclear warhead
Agency: U.S. Air Force
Contractor: Douglas Aircraft Company
Launch Complex: B-52 on Eastern Test Range
Cape Canaveral Space Force Station Operations: 1962
History
In 1958 several U.S. contractors suggested to the U.S. Air Force that large ballistic vehicles could be launched from strategic bombers at high altitude. The contractors argued that this alternative means of ballistic missile launch overcame the vulnerability of fixed silo launch sites. The air launched missile permitted the system to remain aloft on alert status within close range of an aggressor, be invulnerable to surface-to-surface missile attack and remain essentially hidden while deployed.
In response, the Air Force requested specific proposals. As a result, Douglas Aircraft received the prime contract to develop an Air Launched Ballistic Missile (ALBM), the project initially being known as GAM-87. In 1960 the project was renamed Skybolt and Douglas sub-contracted to Northrup (Guidance), Aerojet-General (Propulsion) and General Electric (Re-entry Vehicle).
Missile Testing
A total of six Skybolt missiles were test fired using the range at Cape Canaveral. These missiles were launched from B-52 aircraft flying at an altitude of 40,000 feet over the Atlantic Ocean. The first of these test firings occurred on 19 April 1962. Ironically, all of these Cape-based test flights took place after the Skybolt program was officially canceled. A Skybolt missile completed a flawless test flight on the same day the program was canceled. The system experienced several failures during the early flight testing.
This particular Skybolt is thought to be the only remaining example of the B-52 air-launched tactical missile program conducted during 1961-1962 at the Air Force Missile Test Center, Cape Canaveral Space Force Station. It was transferred from the U.S. Army Training Camp at Eglin Air Force Base, Florida, to the Air Force Space Museum on 10 September 1964 in exchange for a Falcon missile. It was on display in the museum rocket garden.
This display was actually a mockup training aid of the Skybolt guided missile. As a flight-configured test component, the missile size, weight, and balance were carefully duplicated with a durable steel casing for flight and ground operational training.
Restoration
The Skybolt remained on display in the Museum Rocket Garden until it was removed for refurbishment on 2 December 2004. The contract to restore the Skybolt XGAM-87 air-to-surface guided missile was awarded to Guard-Lee, Inc. of Apopka, Florida. Restoration was completed at Guard-Lee's facility in Apopka and the Skybolt returned to Cape Canaveral Space Force Station on 6 June 2006.
Related Pages:
Other Missile & Rocket Artifacts