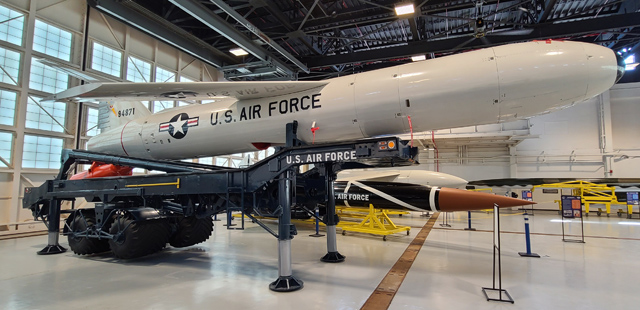 Photo Gallery
The Mace B arrived at the museum September 1964
Restoration Gallery
The Mace B was under restoration between 20 May 2005 and 10 May 2006
Removing Mace from the museum
Disassembly
Disassembly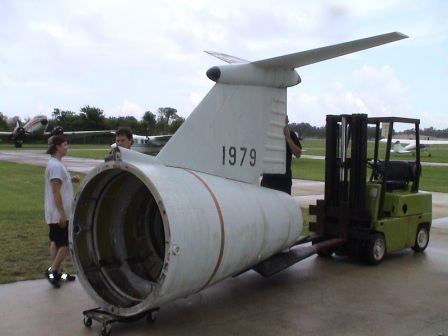 Disassembly
Disassembly
Transporter disassembly
Media blasting a wing
Painted section
Painted section
Finished wing
Replacing aluminum skin
Finished warhead
Mask and paint fuselage
Transporter undercarriage finished
Transporter paint
Load for return to the Cape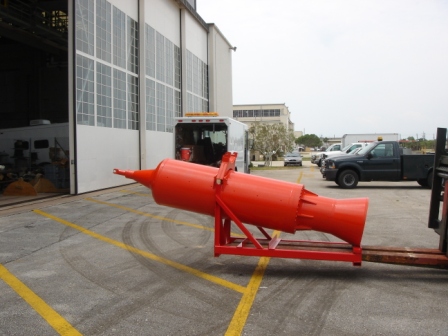 Reassembly at the Cape
Reattaching the wing
Overview
Display location:
Type: Surface-to-surface guided missile
Designations: TM-76B / CGM-13B
Serial Number: 60-715
Payload: Conventional or nuclear warhead
Agency: U.S. Air Force
Contractor: The Martin Company
Cape Canaveral Space Force Station Operations: 1961-1963
History
The Mace was a streamlined, more advanced version of the Matador winged cruise missile. Originally designated TM-76, the Mace was designed and built by the Martin Company (later Martin Marietta). Development of the missile began in 1954.
The missile was powered by a turbojet engine, which could produce 5,500 pounds of thrust. At launch, boost was provided by a solid-fueled motor attached under the vehicle's tail. The solid rocket booster could produce a thrust of 100,000 pounds.
First Launch
The first launch of a Mace missile occurred at Holloman Air Force Missile Center, New Mexico on 10 June 1958. This test launch was significant because it proved that Mace test missiles could be recovered using a series of parachutes after each flight was completed. A total of 42 Mace missiles were test launched from Cape Canaveral between 29 October 1959 and 17 July 1963. None of these missiles were recovered.
Mace improvements over the Matador included a lengthened fuselage, which doubled the vehicle's fuel capacity. This resulted in increased range and warhead weight. Mace production began in 1958 and there were ultimately two versions of the missile.
Mace A
The Mace A, designated TM-76A, carried a Goodyear ATRAN terrain comparison guidance system. It was designed to be carried aboard a cross-country mobile trailer-launcher. Mace-A missiles were deployed in West Germany in June 1959.
Mace B
The Mace B, designated TM-76B, carried an AC Sparkplug A-Chiever inertial guidance system. Launched from hardened shelters, Mace-B missiles were deployed in Okinawa beginning in 1961.
Restoration
The Mace was transferred from Orlando Air Force Base, Florida to the Rocket Garden at the Air Force Space and Missile Museum in September 1964. The Mace airframe was originally assigned to the U.S. Air Force Tactical Missile School, 4504th Missile Training Wing, Orlando Air Force Base and was transferred to the Museum by the Redistribution and Marketing Branch of Patrick Space Force Base.
It remained on display in the Rocket Garden exhibit area of the Museum until it was removed for restoration on 20 May 2005. Restoration was completed at the American Aero facility in New Smyrna Beach and the Mace returned to Cape Canaveral Space Force Station on 10 May 2006.
Related Pages
Other Missile & Rocket Artifacts