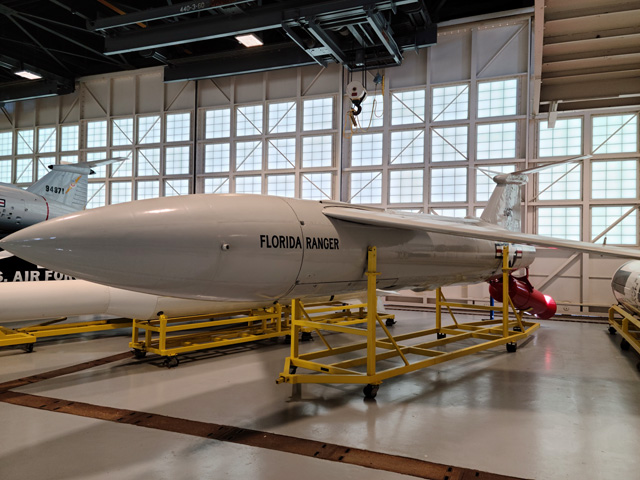 Photo Gallery
Matador arrived at the museum October 1966
Restoration Gallery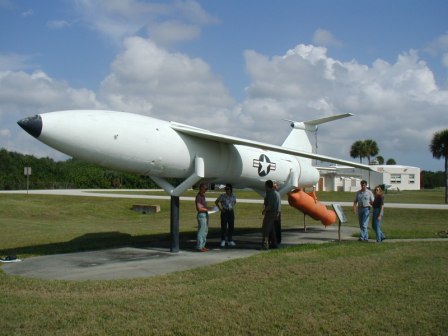 The Matador was under restoration between 10 March 2004 and 16 December 2004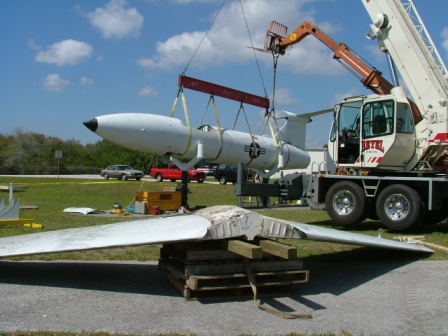 Removing Matador from display
Evidence of heavy corrosion in wing mount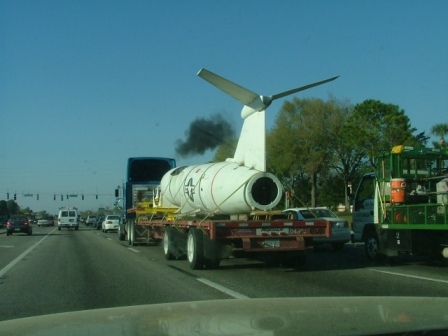 Transporting Matador for off-site restoration
Disassembly and inspection
Disassembly and inspection
Cleaning
Cleaning
RATO bottle paint removal
Painting
Skin repairs to wing
Masking and paint
Final paint
Final paint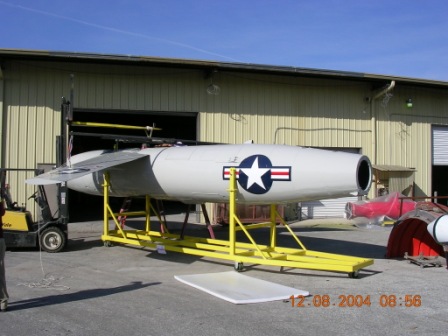 Final inspection
Load for return to the Cape
Re-attaching wing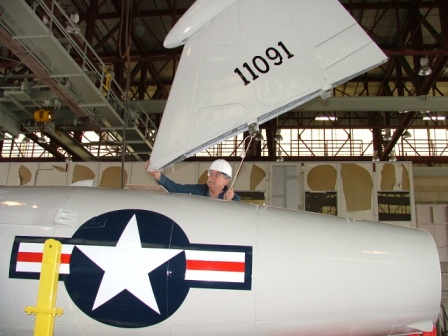 Re-attaching vertical stabilizer
Restored Matador
Overview
Display location:
Type: Surface-to-surface guided missile
Designation: TM-61 / MGM-1
Serial Number: 2885
Payload: Conventional or nuclear warhead
Agency: U.S. Air Force
Contractor: The Martin Company
Cape Canaveral Air Force Station Operations: 1951-1961
History
Named after the Spanish word meaning "to kill", the Matador pilotless bomber was envisioned in August 1945 as the U.S. military sought methods of delivering heavy weapons payloads long distances without risking manned crews. Development of the missile got underway in 1947 and test firings began in Alamogordo, New Mexico by 1949.
As a result of the Korean War, priority and production of the Matador was stepped up in 1950. A Matador production vehicle, designated B-61A, was approved by the U.S. Air Force in January 1951, at which time production of the missile officially began.
Since the Beginning
Representing one of the oldest programs in the history of Cape Canaveral, the First Pilotless Bomber Squadron (Light) was activated at Patrick Space Force Base, Florida on 1 October 1951.
On 10 January 1952, the 69th Pilotless Bomber Squadron (Light) was activated. On 15 January 1954, the operational units were transferred to the Tactical Air Command to be made combat ready. The First Pilotless Bomber Squadron was subsequently deployed in West Germany, while the 69th Pilotless Bomber Squadron was split and deployed in Formosa and Orlando, Florida.
Capabilities
The Matador could carry a 3,000-pound conventional or nuclear warhead and was designed to be launched from either a mobile ramp or hardened shelter. A 50,000 pound launch thrust was provided by a solid-fueled booster attached under the Matador's tail. Cruise thrust of 4,600 pounds was provided by a turbojet engine. The earliest Matador required line-of-sight radio guidance, which substantially decreased its desired 650 mile range. An upgraded Matador, designated TM-61B, added a Shanicle hyperbolic guidance system, which increased the missile's range to a maximum of 500 miles.
Upon deactivation of the U.S. Air Force Tactical Missile School located at Orlando Air Force Base, Florida, the Matador was relocated to the museum rocket garden in October 1966. The Matador airframe was originally displayed in front of the headquarters building of the 4504th Missile Training Wing and was transferred to the Museum by the Redistribution and Marketing Branch of Orlando Air Force Base.
Restoration
It remained on display in the museum rocket garden until it was removed for refurbishment on 10 March 2004. The contract for restoration of the Matador was awarded to Guard-Lee, Inc. of Apopka, Florida. The restored Matador was returned to Cape Canaveral Space Force Station on 16 December 2004.
Related Pages
Other Missile & Rocket Artifacts