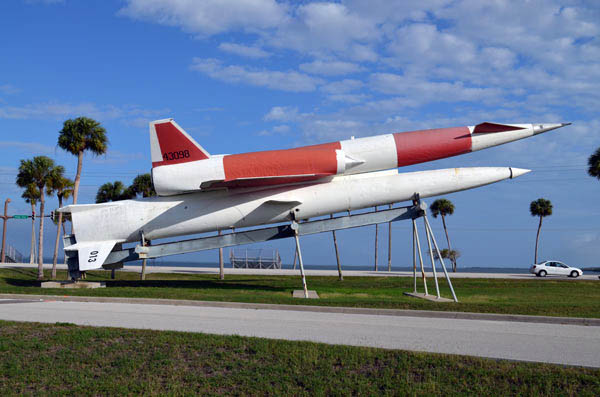 Photo Gallery
Navaho installed at the museum
Navaho at the History Center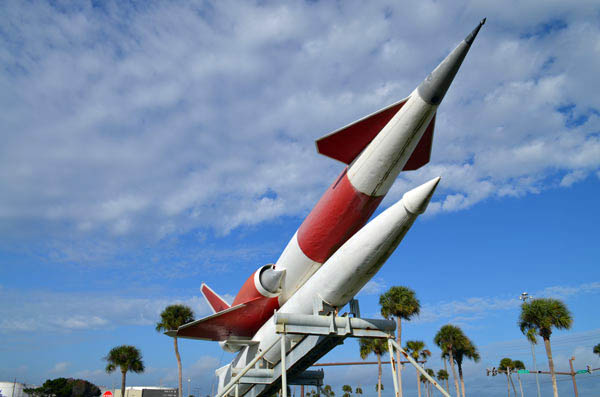 Navaho at the History Center
Restoration Gallery
The Navaho was under restoration between September 1996 to March 1999
Navaho is moved into Hangar C at the Cape
Detaching missile from booster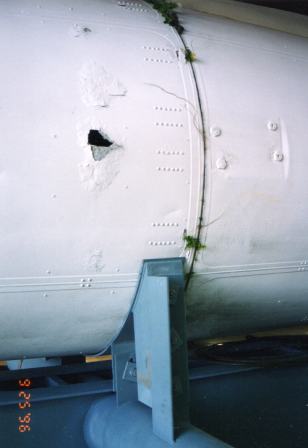 Corrosion damage to the booster skin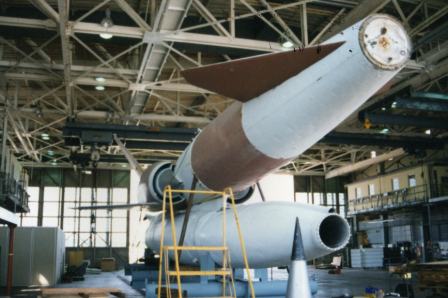 Disassembly and inspection
Disassembly and inspection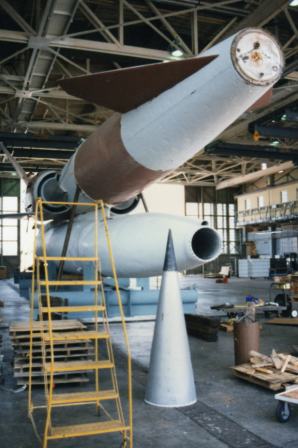 Disassembly and inspection
Fitting the new display mounting rail
Detached missile with panels removed
Disassembly and inspection
Disassembly
Damage to wing skin is evident
Wing skin will be replaced
Wingless Navaho under repair
Another wing to be re-skinned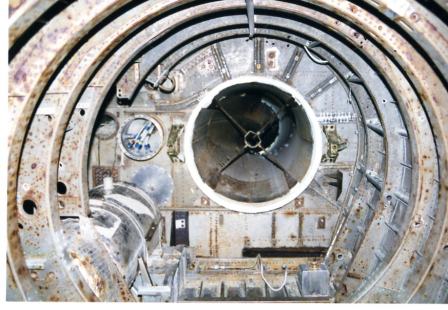 Interior cleanup
Engine compartment cleanup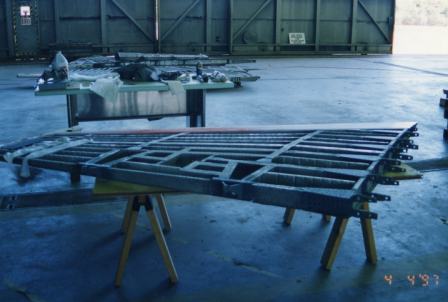 Stabilizer being re-skinned
Painted Navaho ready for reassembly
Painted booster ready for reassembly
Moving Navaho to new display location
Setting Navaho into place at Cape south gate
Overview
Display location:
South Gate – Cape Canaveral Space Force Station
Type: Surface-to-surface guided missile
Designation: XSM-64
Payload: Conventional warhead
Agency: U.S. Air Force
Contractor: North American Aviation
Cape Canaveral Space Force Station Operations: 1955-1959
History
Considered the most advanced aircraft in its day, the Navaho was envisioned in 1947 as a pilotless bomber capable of carrying a weapons payload a distance of 5,500 miles.
The first version of the Navaho, intended for test flights only, was called the Navaho X-10 and resembled a traditional aircraft. Navaho X-10 vehicles were remote controlled and took off from a runway just like an airplane. After completing a test flight, the Navaho X-10 could return for a landing utilizing retractable landing gear.
Launches
Although Navaho X-10 test flights began at Edwards Air Force Base, California, a total of 15 Navaho X-10 missiles were launched from the Cape Canaveral Skid Strip between 19 August 1955 and 26 January 1959. Some of the Navaho X-10 vehicles were used for aerodynamic flight tests while some acted as target drones during Bomarc missile tests.
A total of seven Navaho XSM-64 missiles were launched from Cape Canaveral Launch Complex 9-10 between 6 November 1956 and 18 November 1958. Some of these launches took place after the Navaho program was canceled in July 1957 due to advancements in ballistic missile technology.
Fate of the Navaho
The cruise missile portion of the Navaho was donated to the museum by the Brevard County School Board on 18 August 1964. Records indicate that the missile was originally displayed in front of the Clearlake Junior High School administrative offices in Cocoa, Florida, and was mounted horizontally without a booster or engines.
The booster section of the Navaho was later donated by the Florida Power and Light Company in 1967 and was then erected as one complete Navaho XSM-64 in the museum rocket garden.
Restorations
The Navaho remained on display in the Museum Rocket Garden until it was removed for restoration in September 1996. The restoration took place in Hangar C at Cape Canaveral Space Force Station by corrosion specialist Keith Davidson of AirCorr Inc., Melbourne, Florida. With restoration complete, the Navaho was moved to the History Center on March 1999.
On 7 October 2016, high winds driven by Hurricane Matthew toppled the Navaho from its launcher, severely damaging it. The Navaho has been restored and is proudly back on display outside the South Gate of Cape Canaveral Space Force Station
Related Pages:
Other Missile & Rocket Artifacts