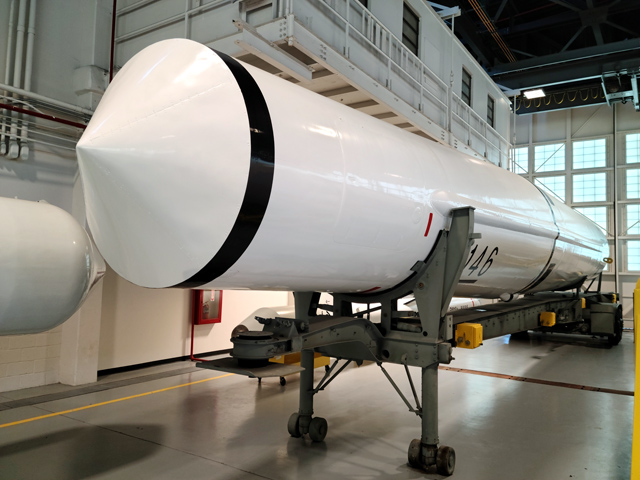 Photo Gallery
Thor arrives at the museum
Restoration Gallery
The Thor was under restoration between April 2004 to June 2005
Removing Thor from museum for off-site restoration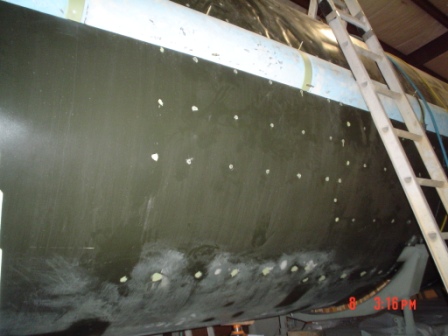 Removing old paint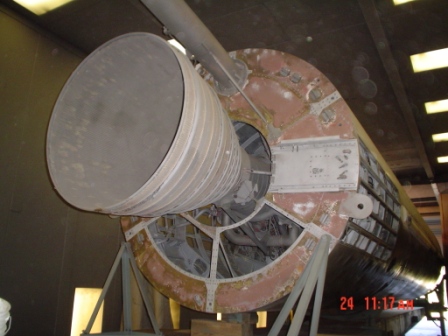 Removing old paint
Painting underway
Final paint
Masking for paint trim
Masking for paint trim
Masking for paint trim
Paint trim
Paint trim
Repair transporter undercarriage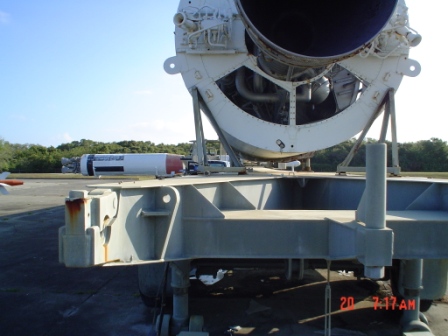 Repair transporter structure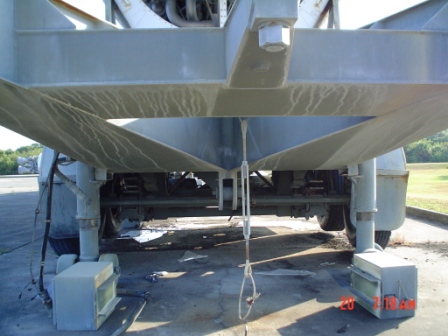 Paint transporter
Vernier engine finish
Engine compartment finish
Final assembly
Clear view into engine
Transport back to the Cape
Overview
Display location:
Type: Intermediate range ballistic missile
Designations: SM-75 / PGM-17
Serial Number: 57-2650
Payload: Nuclear warhead
Agency: U.S. Air Force
Contractor: Douglas Aircraft Company
Cape Canaveral Space Force Station Operations: 1957-1965
History
Development of the Thor missile began in 1955 as the U.S. Air Force sought to deploy an intermediate range ballistic missile (IRBM) independent of the U.S. Army Jupiter IRBM. Although the Jupiter was ultimately transferred to the U.S. Air Force and became the first operational U.S. IRBM, Thor represented the first IRBM developed and deployed solely by the U.S. Air Force.
The Thor was designed to be operationally similar to the Jupiter IRBM, the Thor weapons system incorporated fixed service structures in the field. Associated service equipment accounted for 87% of the overall development costs of the Thor. The Jupiter was more streamlined and was designed as a fully mobile weapons system with relatively simple launch stands and servicing requirements.
Thor Design
A full two-thirds of the Thor body held liquid fuel for the missile's single-stage engine. A gimbaled Rocketdyne engine, fed by liquid oxygen/RP-1(kerosene) liquid fuel, could produce 150,000 pounds of thrust at launch. This thrust capability was similar to the Jupiter and each individual Atlas ICBM booster engine. The engine design was derived from the Navaho cruise missile program.
Two Rocketdyne vernier engines were attached at opposite sides of the bases of the Thor. The vernier engines, similar to those used on the Atlas ICBM, burned the same fuel as the main engine and could each produce a 1,000-pound thrust. They were used to adjust roll and velocity.
Inertial guidance for the Thor was provided by an AC Sparkplug system utilizing liquid-floated gyroscopes. To save development costs, the Thor carried a copper heat-sink re-entry vehicle originally designed for the Atlas ICBM.
Thor Launches
Beginning on 25 January 1957, the first four Thor test launches were failures. However, a number of successful test flights followed after intensive studies of the early failures. The Thor was declared operational in 1959 and remained in service through 1963.
Originally scheduled to be presented as a donation to the city of Cocoa Beach, the Thor SM-75 (serial number 57-2650) was instead sent to the Museum when the city could not finance the cost of transportation and erection. The semi-trailer arrived in October of 1964 and the missile followed in November of 1965. Both items were sent from Sheppard Air Force Base, Texas and remained in the museum rocket garden until they were removed for a major restoration.
Restoration
The restoration project was awarded by contract to Keith Davidson of AirCorr Inc., Melbourne, Florida. The missile was removed from the Air Force Space and Missile Museum for restoration work at an off-site facility and then returned to Cape Canaveral Space Force Station. The refurbishment process began in April 2004 and was completed in June 2005.
Related Pages:
Other Missile & Rocket Artifacts